KNEE AND LIGAMENT BRACING
We have a wide range of trading products from DJO Global and AIRCAST.  DJO Global is a leading designer, manufacturer and distributor of state of the art orthopaedic Knee Braces.
4Titude® is DonJoy's off-the-shelf functional brace with two lengths and seven sizes. Available in ACL, PCL and CI versions.
Indication
It is ideal for moderate to severe ACL and/or PCL, MCL and LCL instabilities for active, sedentary and adolescent patients
Ideally suitable for non-contact sports
Created for all activity levels, FullForce's sleek, low profile and exceptionally light weight has made it the go-to prefabricated brace for competitive and recreational athletes of all kinds.
Indication
It is indicated for moderate to severe ACL, MCL & LCL instabilities.
Playmaker II is a lighter and slimmer profile option to ensure stability and comfort for mild ligament  strains.
Indication
The Playmaker II is suitable for mild ACL, MCL and LCL instabilities
X-Act ROM Lite is a lightweight brace featuring durable X-Act ROM hinge, circumferential foam & easy to adjust strap system. The simplified telescoping uprights can fit a variety of patients and can be contoured to the patients' leg to provide varus and valgus support.
Indication
Post Operative (ACL, PCL, MCL, LCL surgeries)
Patella Realignment
Meniscal or Articular Cartilage Repairs
Benefits
Easy to use Strap System
X-Act ROM Hinge
Full Circumferential Foam
Adjustable Uprights
The New Reaction Knee Brace is an active, responsive, webbed approach to general anterior knee pain and a distinct alternative to basic knee sleeves.
Indication
Chondromalacia Patella
Osgood-Schlatter Disease
Patella OA, mild bicompartmental OA
Quadriceps and Patella
Tendonitis/Tendinosis
The Tru-Pull Lite is DonJoy's most comfortable, low profile and shortest patellofemoral brace, yet strong enough to relieve pain.
Indication
Recommended for acute mild to moderate anterior knee pain,support for patella instability, lateral subluxation and maltracking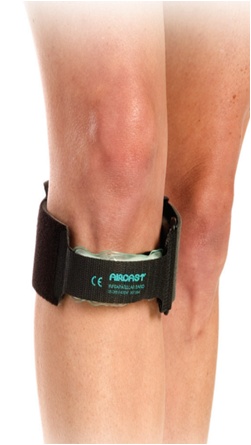 Infrapatellar band is a single aircell band which focuses compression on the patella tendon to decrease stress at the tibial tubercle.
Indication
Osgood Schlatter
Patella tendonitis